The Rocket
Regular price
$5,200.00 USD
Regular price
Sale price
$5,200.00 USD
Unit price
per
Sale
Sold out
Share
View full details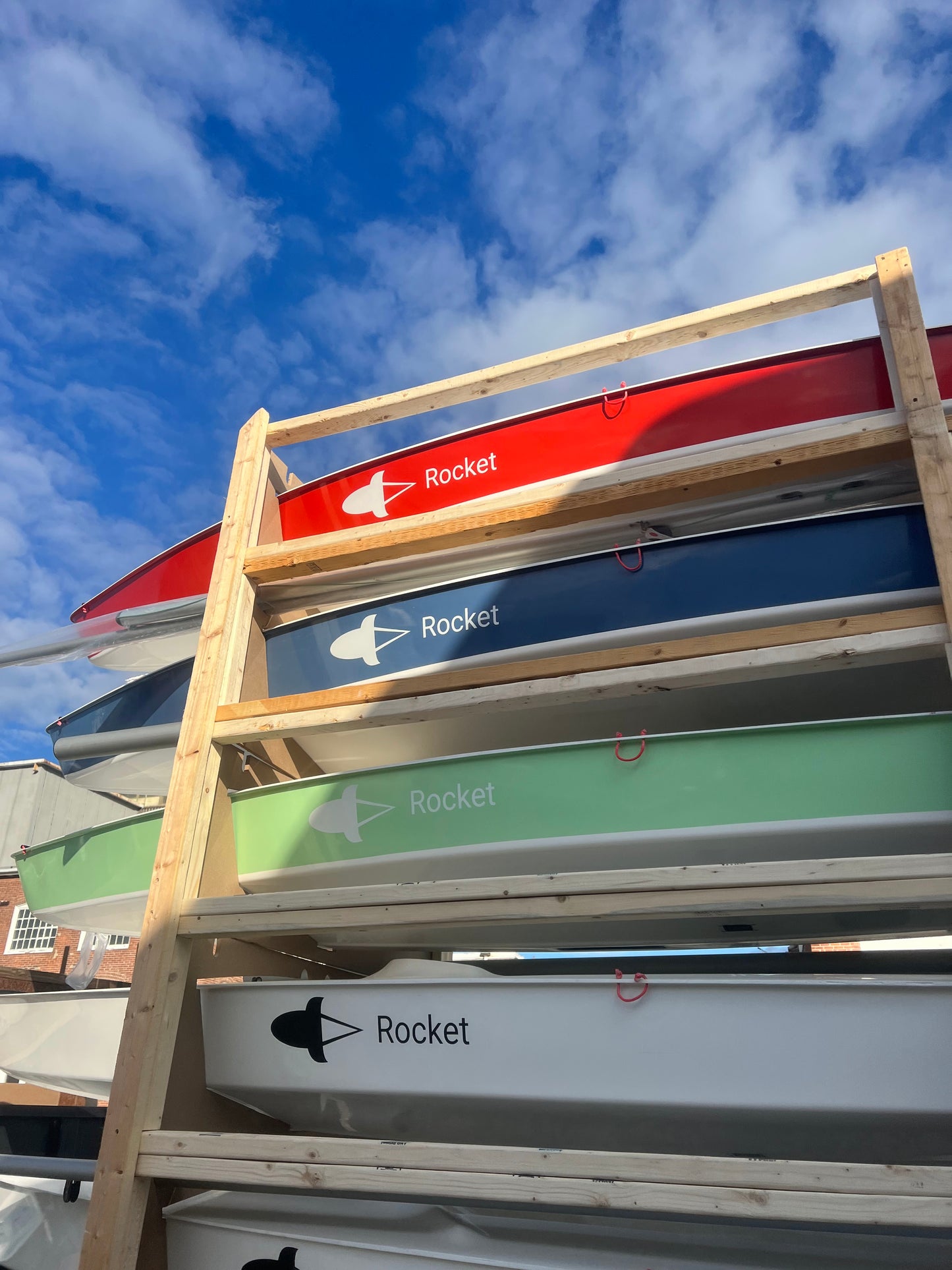 THE CLASSIC. MADE MODERN.
THE SPECS
90lbs 
167in Length Overall
96in Cockpit (6 ft 6 in)
81 Sq Ft Sail Area
Vaccum-Infused Vinylester
Fiberglass Composite
Rocket: $5200 
-Fully Outfitted Hull
-Complete Assembled Mast And Spar
-Sail And All Lines And Ropes
-Daggerboard And Rudder
Interceptor: $6950
-Mylar-Carbon Blend Sailplan (Clear Only)
-Carbon Fiber Wingfoil Rudder
-Carbon Fiber Traveler

Backcountry:  $7400
-Oarlocks
-Carbon Fiber Oars

Direct Factory Shipping Is Available At Cost
Launch into a new adventure on a strikingly innovative execution of a timeless favorite. 90 lbs of hull weight, built for strength, built for fun and built to go quick. Built to take friends along.
Take your daughter for her first sail ever. Share a sunset sail with your spouse. Use its agility and ample storage to backpack by sailboat for a weekend. Kick it off the beach and get some much-needed endorphins as you plane upwind and downwind in a fun medium breeze. Do all of these things on your new Rocket built by Fulcrum Speedworks in Bristol RI.

Wait, haven't I seen one of these before?

In a way- but no. Not even close. The Rocket builds on the strong fundamental positives of the classic American "Board boat", a boat type which first came into the world about 80 years ago. Hundreds of thousands of board boats have been made over the years by boatbuilders across the continent, from the Sailfish, to the Aqua-finn, to the Sunfish, the Phantom, the Scorpion and countless others, they have become an North American backyard icon on par with charcoal grills, above-ground swimming pools and pickup trucks. Board boats of all kinds have been loved for generations for a good reason. Their simplicity, ease of use, safety and affordability has stood essentially unmatched.

The Rocket is that classic form made modern by way of careful and sweeping improvements across the entire platform. An old favorite has jumped forward thanks to modern methods and materials. This is what happens when a company that makes hi-tech foiling UFOs gets to execute a classic concept.
The Interceptor takes the Rocket and makes it high-tech, with a Mylar-Carbon blend sailplan, a carbon fiber wingfoil rudder, and a carbon fiber traveller.

The Backcountry takes adventure to the next level with carbon oars and oarlocks! Great for finding new fishing holes up the river.
Made from an intensely rugged and extra lightweight cored composite construction, the Rocket weighs in at 90 pounds, fully 40% lighter than conventional builds of its type. Consider the process of launching and landing it, pulling it up the beach on the dolly etc. Light things are less cumbersome and easy to move around. Your back is already thanking you. The wind likes light boats too. Light boats accelerate more easily and hold quick speeds more readily. They're easy to handle on the water and safer as a result. At an excellent power to weight ratio, the Rocket can really move! In light wind it's quick and in good breeze it will plane upwind, downwind and on reaches. Go there faster! It's no UFO, but it's an impressively quick dinghy vs. other 14 foot dinghies on the market.
But it's not just lighter weight and greater speed. The Rocket is also palpably more stable than comparable boats on the market, thanks to having the widest parts of its V-bottom situated directly where you sit. As one customer puts it. "The sailing motion and sea-kindliness is entirely different. It is a more sophisticated motion and not so abrupt as the SF which can be very squirrelly. This is more stable, and sails more consistently and predictable. It points a little better and close-hauled sailing is entirely different and I'm able to sail more consistently and keep my heel angle as desired rather than reacting to the  SF's abrupt motion.   It's far more comfortable to move around in and great with a passenger. Better boom clearance for tacks/jibes."

And then there's the deck layout.
The Rocket comes with an expansive full length cockpit which stretches all the way to the stern. The cockpit bottom is padded with soft non-slip marine deck foam which is both gentle to the touch and rugged to survive the elements. This allows ample room to bring friends or cargo. Three or four kids can easily take the Rocket for a sail together, two adults can take the Rocket for a sail together.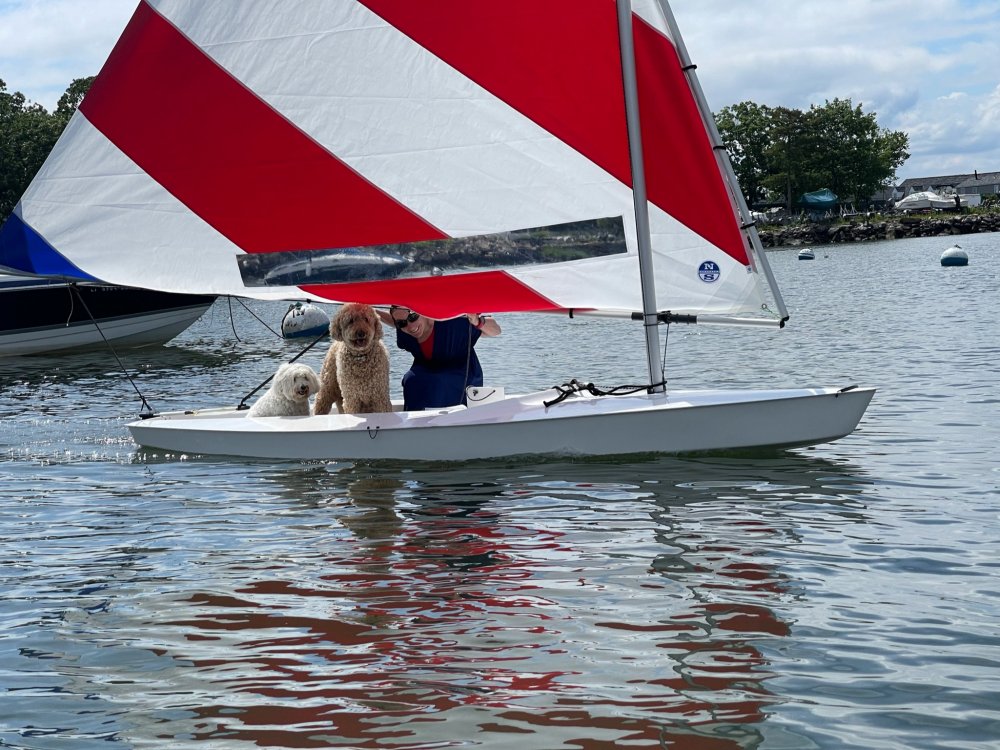 BRING THE FAM!
With 6 feet 3 inches of floor length on the cockpit, there are easily four feet of cargo space in the back for dry-bags while still leaving room to sail comfortably. This makes the Rocket the pickup truck of the dinghy world. Stick your camping gear in the back and use it for sail-powered backpacking, or simply go sailing with the dog and a big cooler. You name it, it'll go in your Rocket.
Hoisting the sail could not possibly be any easier thanks to the Rocket's timeless tried-and true lateen sail setup. The sail, boom and gaffe lay down on the deck waiting for the halyard to be pulled. Pull the halyard 10 feet and cleat it. Congratulations! You're done. Go sailing. Repeat these steps in reverse when you land. There is a good reason why the lateen sail has been uses on millions of production sailing dinghies since the 1950's. Dollar for dollar, outing for outing, nothing gets the job done more easily.
ASK US ABOUT FACTORY-DIRECT SHIPPING OR DEALERS NEAR ME
NEW ENGLAND
Fulcrum Speedworks
310 Bourne Avenue, Building 69
East Providence RI, 02916
fulcrumspeedworks@gmail.com
401-659-4841
‪(401) 659-4841‬
Fay's Boatyard
71 Varney Point Rd, Gilford, NH 03249
603-293-0808
TheShip@faysboatyard.com

Small Boat Exchange
2649 Shelburne Rd,
Shelburne, VT 05482
802-985-5222
vtsmallboat@pro-administrator.com

Nauset Marine
45 MA-6A,
Orleans, MA 02653
508-255-0777
https://www.nausetmarine.com/

US One-Design
80 Mid-Tech Dr,
West Yarmouth, MA 02673
508-827-7902
https://usonedesign.com/


NEW YORK
The Dinghy Shop
334 S Bayview Ave,
Amityville, NY 11701
631-264-0005
http://www.dinghyshop.com/

Shoreline Sailboats
243 E Main St,
Avon, NY 14414
585-754-5315
https://shorelinesailboats.com/


MICHIGAN/CENTRAL GREAT LAKES


Sailsport Marine
13988 S Robinson Rd,
Traverse City, Michigan
info@sailsportmarine.com
231-929-2330


CAROLINAS
Sail Air Watercraft
2126 Hwy 9 E Unit 5B
Longs, SC 29568
843-913-8400
https://sailairwatercraft.com/


ONTARIO

Quiet Waters Sailboats
3047 Mayhew Rd,
Waubaushene, ON
L0K 2C0, Canada
705-538-2343
https://sailboatsales.com/
MIAMI
Blue Ocean Trading